---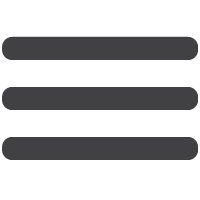 ---
Berry Cherry S'mores Bars (Vegan, GF)
July 2, 2017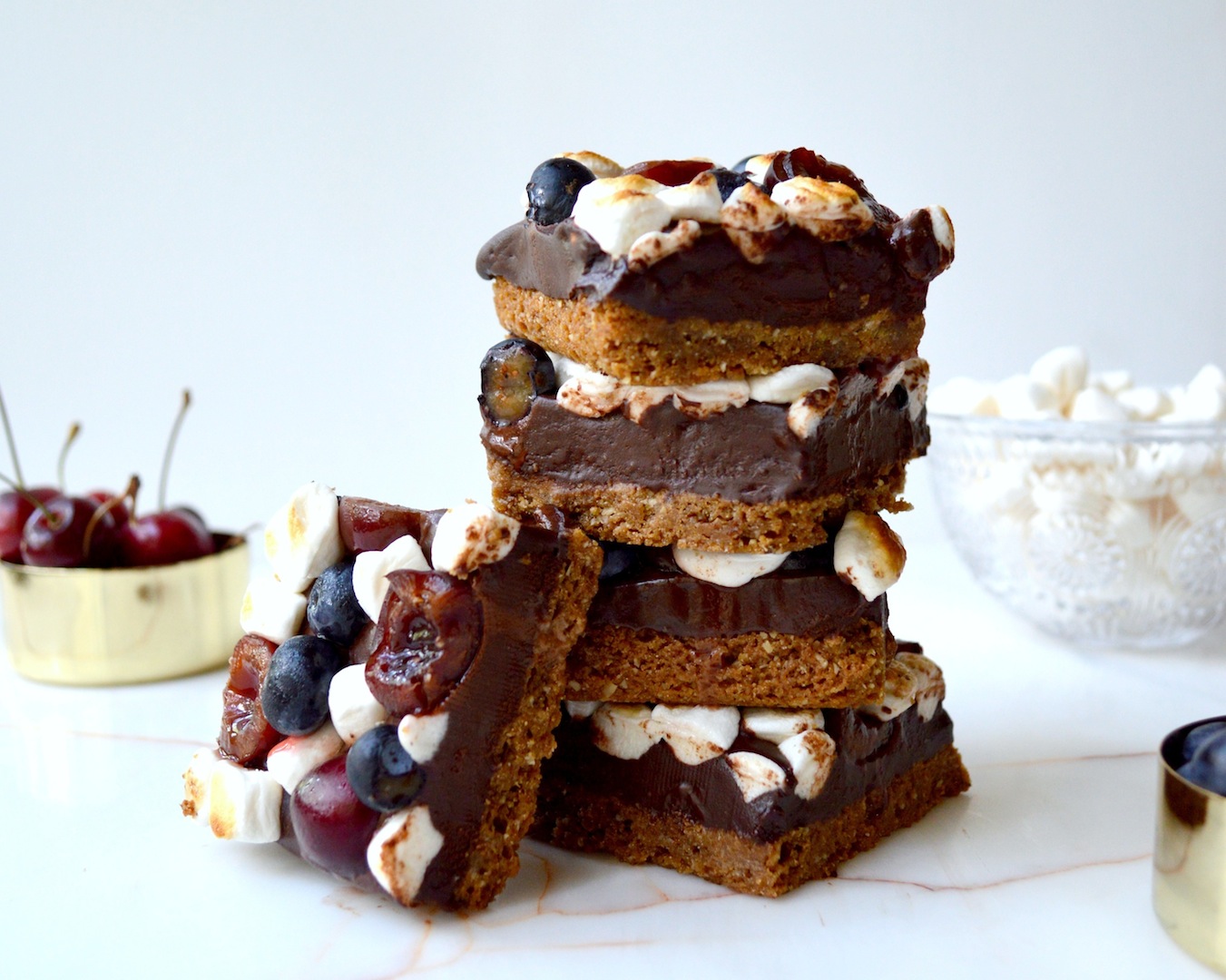 When it comes to summertime desserts, s'mores are a quintessential favorite. Some of my best summer memories involve eating them with family and friends around a campfire. There's just so much to love about a crunchy graham cracker topped with ooey-gooey chocolate and toasted marshmallows!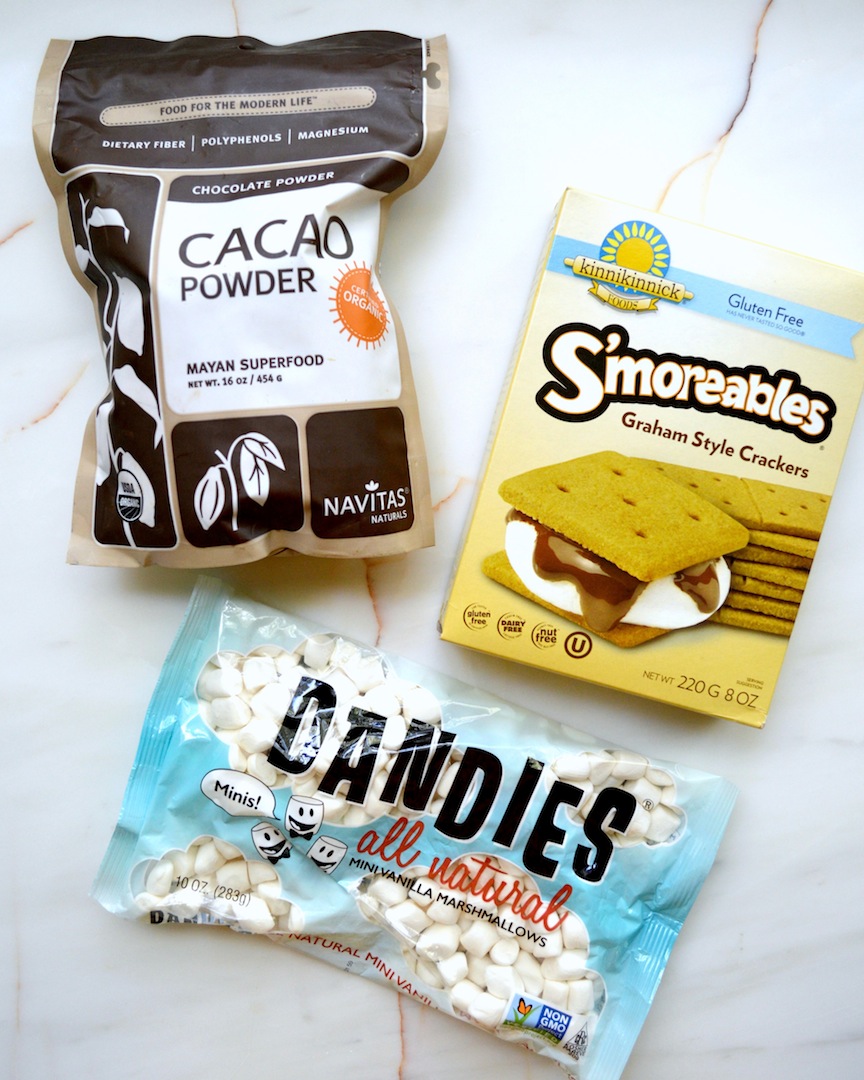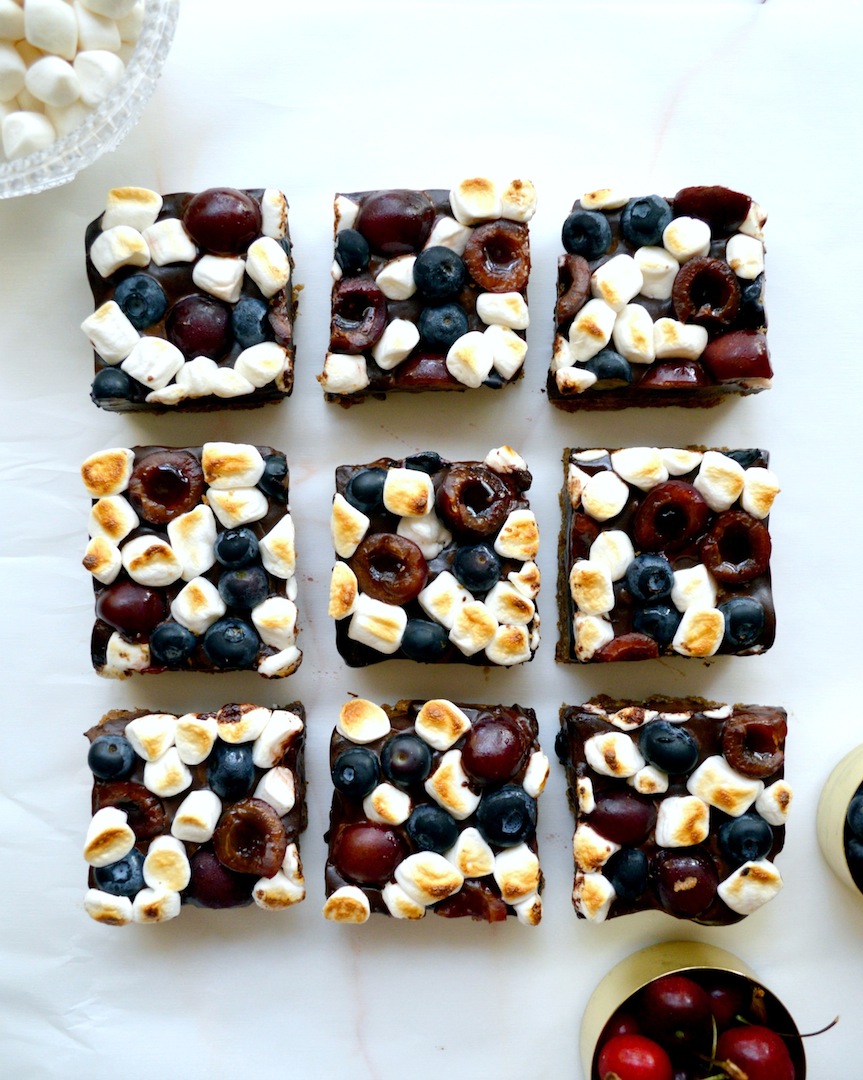 These Berry Cherry S'mores Bars are a seriously delicious, totally plant-based, gluten-free and indoor approved version of the classic treat. They offer all the usual flavors with some added freshness and patriotic flare from the cherries and blueberries. Perfect for the Fourth of July, and no campfire required!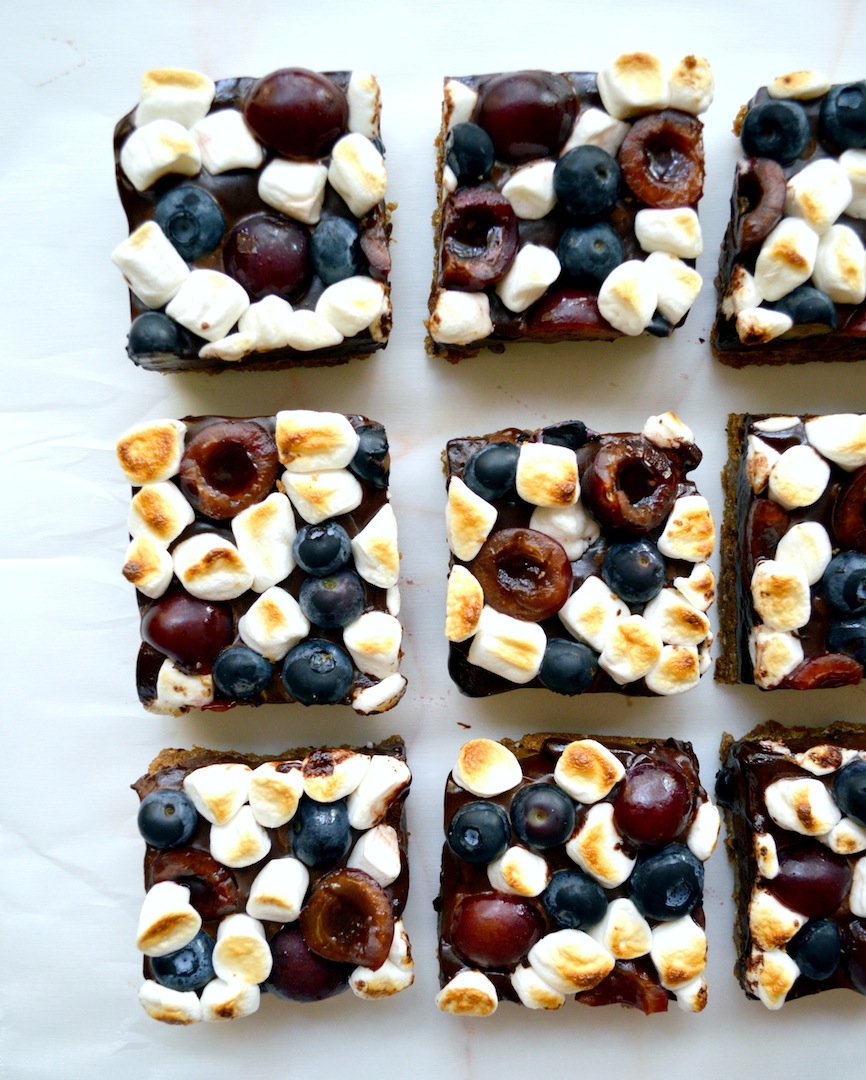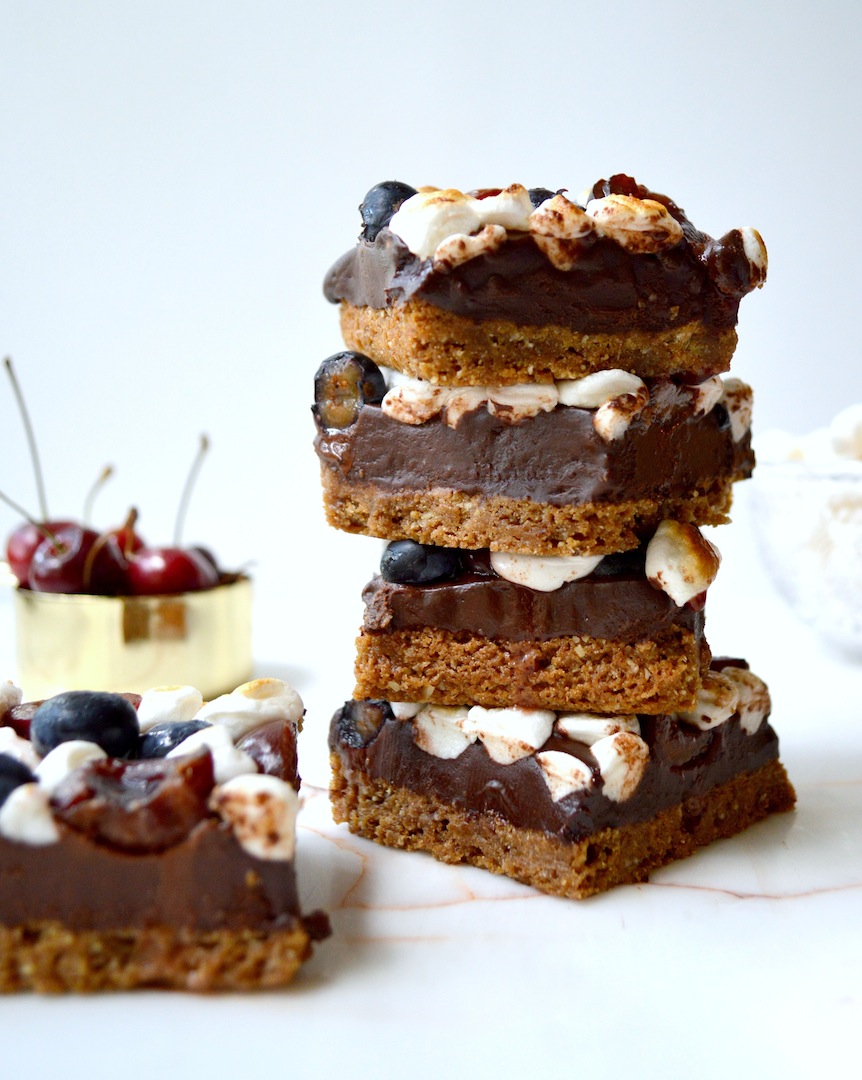 Ingredients:
Graham Cracker Crust
1 8 oz. box gluten-free, vegan graham crackers*
¼ cup gluten-free, rolled oats
¼ cup coconut oil, melted*
3 Tbsp. maple syrup
2 Tbsp. water
¼ tsp. cinnamon
⅛ tsp. sea salt
Chocolate Ganache
1 cup coconut oil, melted
1 cup organic cacao powder
⅔ cup maple syrup
1½ tsp. pure vanilla powder or extract
¼ tsp. sea salt
Marshmallow, Berry & Cherry Topping
¾ cup gluten-free, vegan marshmallows*
¾ cup dark sweet cherries, halved and pitted
½ cup fresh blueberries
Directions:
For the Graham Cracker Crust
Preheat oven to 350 degrees. Grease an 8" x 8" baking pan with coconut oil non-stick cooking spray and line with parchment paper.
Pulse graham crackers and oats in a food processor until finely crumbled. Add cinnamon and salt and pulse some more.
Add melted coconut oil, maple syrup and water and blend into a stickycrust.
Evenly press mixture into bottom of pan and bake at 350 degrees for 12-15 minutes. Remove pan, turn off oven and set crust aside to cool.
Clean out the food processor to prepare the chocolate ganache.
For the Chocolate Ganache
Make sure all chocolate ganache ingredients are at room temperature, then place in food processor and blend until silky smooth.
Pour chocolate ganache over the crust and spread out evenly with spoon or silicone head spatula.
For the Marshmallow, Berry & Cherry Topping
Evenly sprinkle your marshmallows, blueberries and cherries over the chocolate ganache. Place in the freezer to set for about an hour.
Remove from freezer when chocolate has solidified, then lift dessert out of the pan and off the parchment paper.
Carefully slice into even squares and place on a baking sheet.
Broil on high on the top rack of your oven until marshmallows start to brown, about 45 seconds – 1 minute. Watch carefully, they can burn quickly!
Serve bars immediately. Store leftovers in the refrigerator.
Notes
For my gluten-free, vegan graham crackers, I used Kinnikinnick S'moreables® Graham Style Crackers.
Melt coconut oil by filling a container with hot water and setting jar in it until the oil melts, about 15 minutes. Allow oil to cool to room temperature before using.
For my gluten-free, vegan marshmallows, I used Dandies All Natural Mini Vanilla Marshmallows.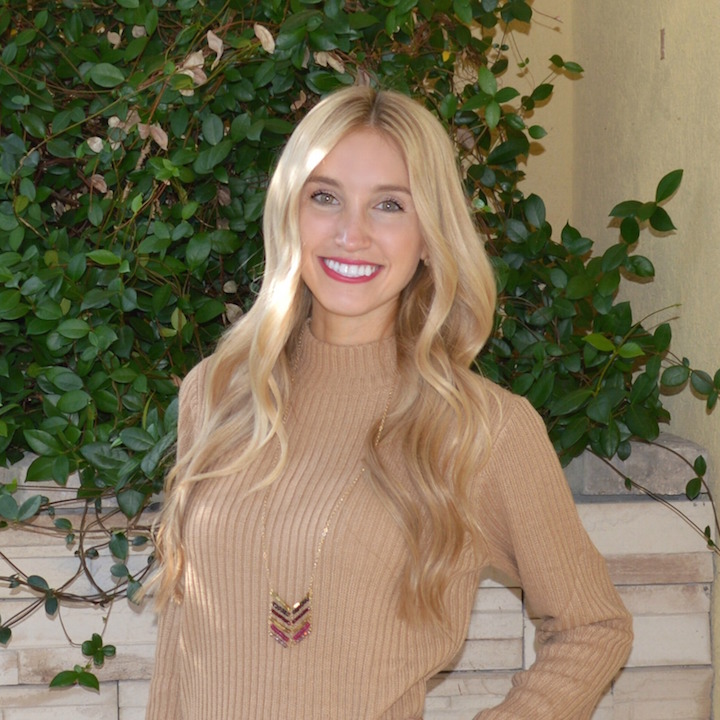 Hi there! I'm Sara – a twenty-something graphic designer with a passion for plant-based baking on the side.