---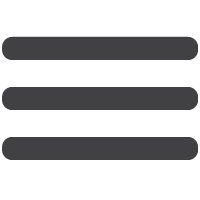 ---
Blue Matcha & Fig 'Kaleidoscope' Cheesecake (Raw, Vegan)
September 7, 2017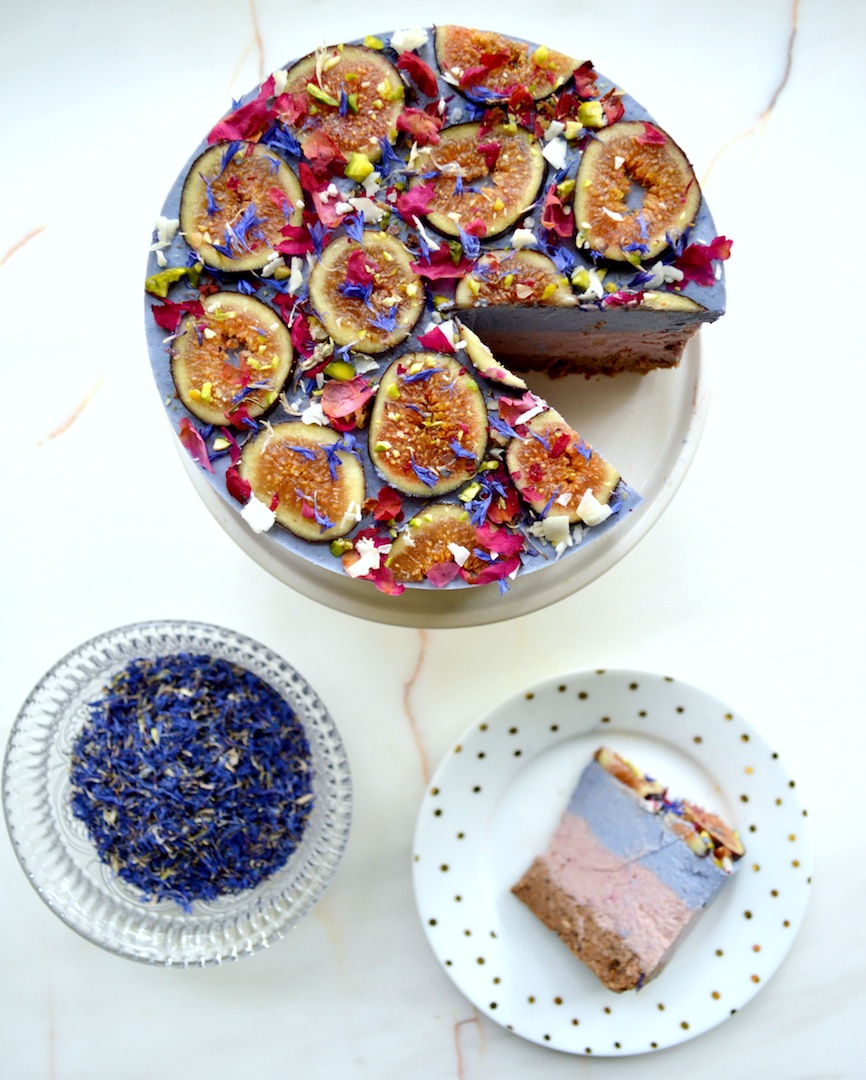 Blue matcha, fresh figs and flowers, oh my! This raw cheesecake has all the good stuff, and it's as delicious and nutritious as it is pretty. When I was coming up with this dessert I was going for the whole unicorn cake trend, but after making it I thought it looked more like a kaleidoscope. Hence I decided to call this a kaleidoscope cake!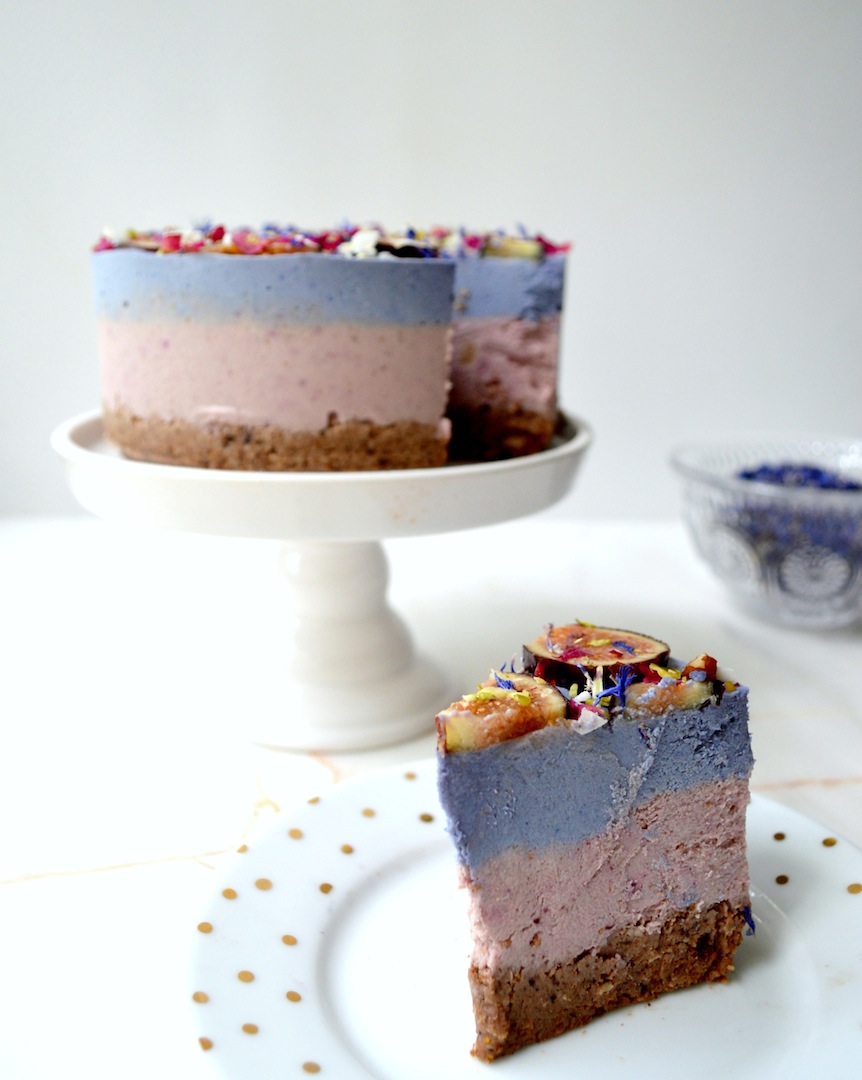 So what makes this cake so great? Figs are a powerful antioxidant, rich in polyphenols, fiber and potassium and known to reduce cholesterol. Plus they're yummy and pair great with raspberries for a fresh mild sweetness and lovely pink color.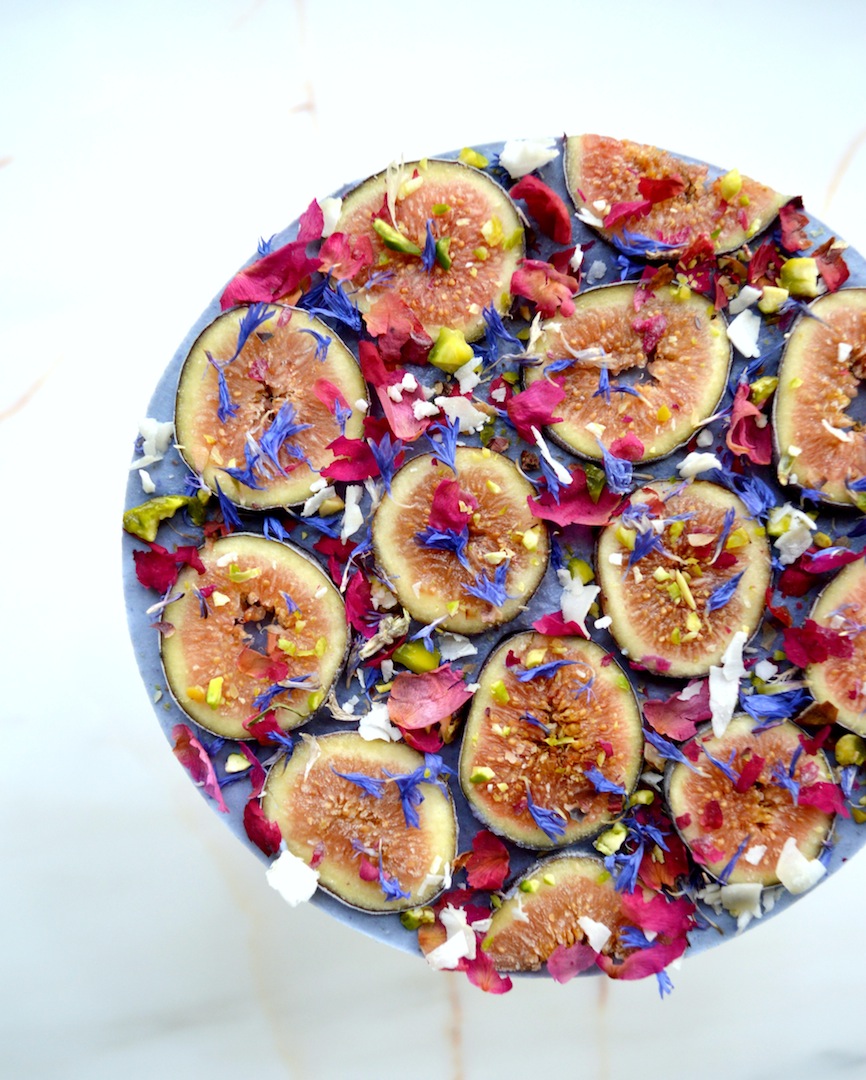 The blue matcha, made from butterfly pea flowers, adds a gorgeous soft blue hue and light floral taste. I got mine from matcha.blue. It's also anti-inflammatory, packed with antioxidants and known to reduce anxiety and boost cognitive function. Win-win!

Ingredients:
Crust
1 cup raw walnuts
½ cup unsweetened coconut flakes
¾ cup dried black mission figs
⅛ tsp. sea salt
Cheesecake Base
2 cups raw cashews, soaked and drained
½ cup coconut cream*
¼ cup + 2 Tbsp. maple syrup
¼ cup fresh squeezed lemon juice
¼ Cup coconut oil, melted**
1 tsp. pure vanilla powder or extract
¼ tsp. sea salt
Fig Layer
½ cup fresh raspberries
6 fresh black mission figs, stems removed
Blue Matcha Layer
2 tsp. organic blue matcha powder
Toppings
Handful fresh black mission figs, thinly sliced
Cornflower petals
Dried rose petals
Chopped unsweetened coconut flakes
Chopped pistachios
Directions:
For the Crust
Grease a 6-in x 3-in spring form pan with coconut oil non-stick cooking spray and line bottom with parchment paper.
Place walnuts and coconut flakes in a food processor and pulse into crumble.
Add the dried figs and sea salt and blend into a sticky crust consistency.
Evenly press mixture into bottom of spring form pan and set in the refrigerator.
Clean out the food processor to prepare the cheesecake base.
For the Cheesecake Base
Soak cashews in warm water for 4-6 hours. Drain and place in food processor with the rest of the cheesecake base ingredients and blend until creamy and smooth.
Remove half of the cheesecake base from the food processor, place in a separate bowl and set aside.
For the Fig Layer
Remove the stems from your figs and slice in half. Add fig halves and fresh raspberries to the cheesecake base in the food processor and blend well.
Pour the fig mixture over the crust then tap pan on counter to release air bubbles.
Place in the freezer to set while making the blue matcha layer, about 20 minutes.
Clean out the food processor to prepare the last layer.
For the Blue Matcha Layer
Add the remaining cheesecake base to the food processor along with the blue matcha and blend well.
Evenly spread the blue matcha mixture over the set fig layer then tap pan on counter to release air bubbles.
Thinly slice your additional figs for topping and evenly place around blue matcha layer. Add cornflower petals, dried rose petals, chopped pistachios and coconut flakes.
Cover cake and place in the freezer to set for 4-6 hours, or overnight for best results.
Remove cheesecake from spring form pan and allow to thaw at room temperature for about 20 minutes before slicing and serving. Store in the freezer for up to two weeks.
Notes
For coconut cream, refrigerate can of coconut milk 8 hours or overnight. Open can and scoop out the thick creamy layer that has solidified at the top. Lightly beat or whisk into a cream. Reserve the remaining liquid in the refrigerator for another use.
Melt coconut oil by filling a container with hot water and setting jar in it until the oil melts, about 15 minutes. Allow oil to cool to room temperature before using.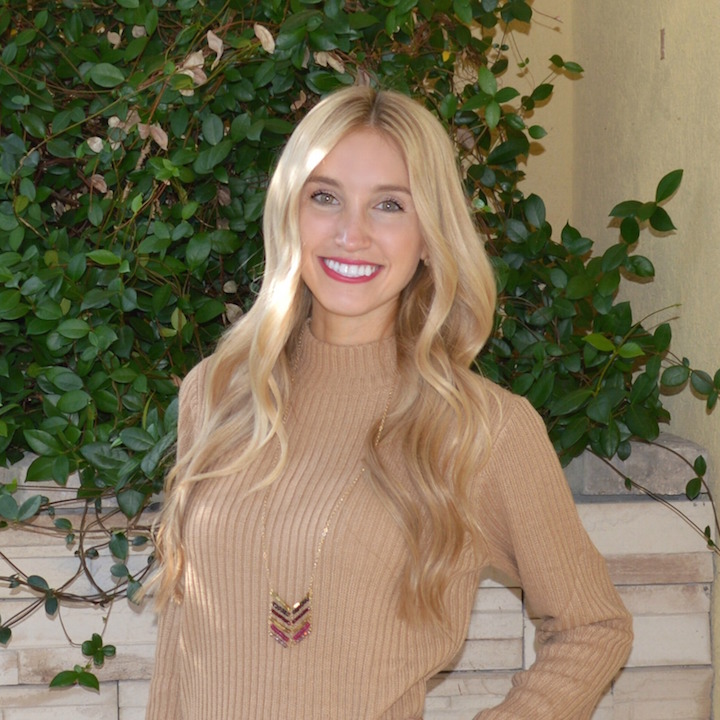 Hi there! I'm Sara – a twenty-something graphic designer with a passion for plant-based baking on the side.