---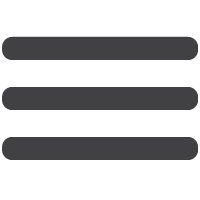 ---
Peppermint Hot Chocolate Cheesecake (No-Bake, Vegan)
December 20, 2017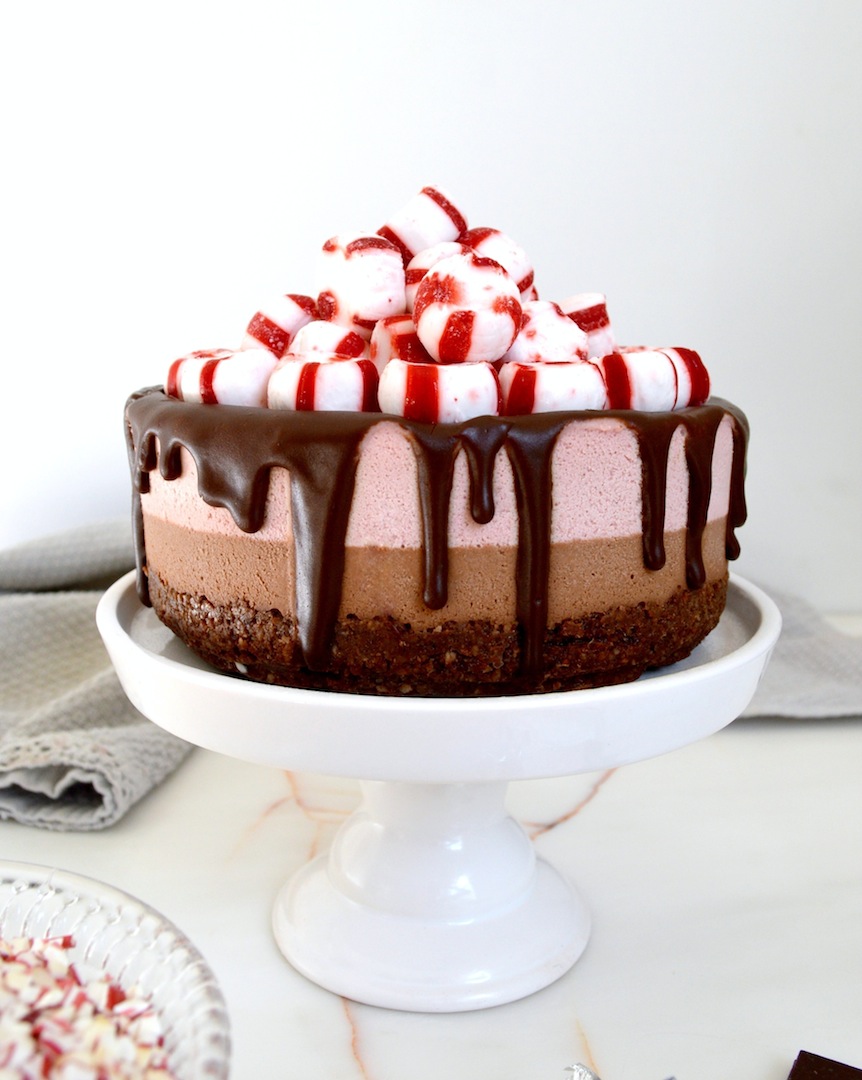 There's nothing more cozy and satisfying than a pepperminty hot chocolate on a cold winter day. Unless it's in cheesecake form of course! As a big time lover of mint chocolate, this Peppermint Hot Chocolate Cheesecake has to be one of my all time favorites, for Christmas or any other time of year.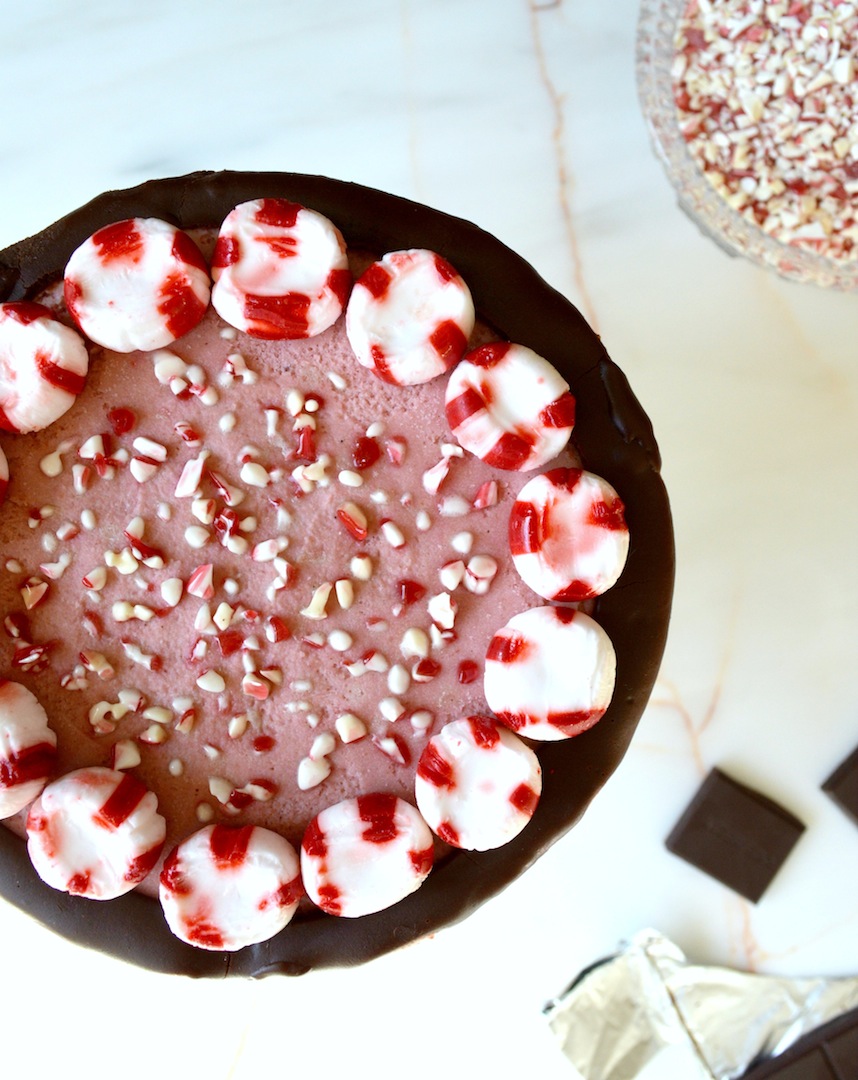 With a rich cacao cheesecake layer, refreshing peppermint cheesecake layer, decadent chocolate sauce and gorgeous swirls of classic peppermint candies to top it all off, it's the perfect Christmas cake. Visions of those sweet, creamy layers will be dancing in my head well into the New Year!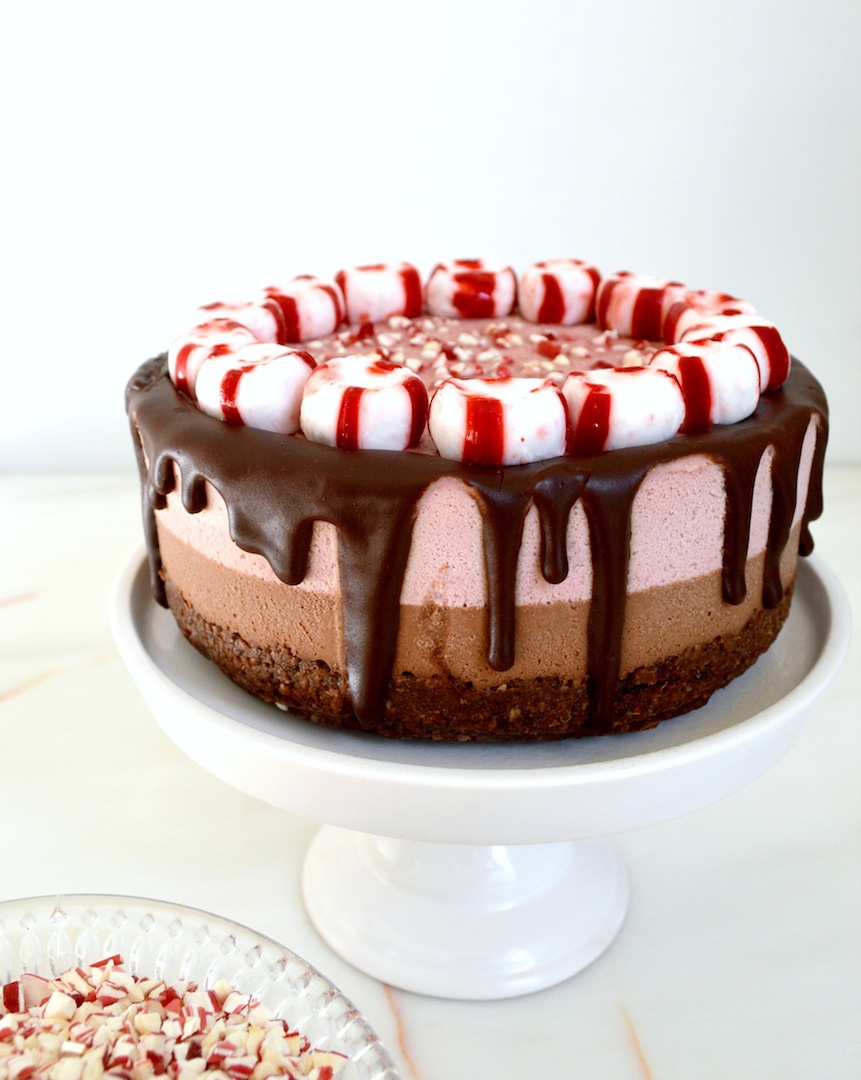 I'll be honest, I only piled the peppermints on top for a pretty picture and then I took them off, so you can feel free to skip this step. Even for me, that's a whole lot of peppermint. However you decide to top this cake off, I guarantee it will fill you and your taste buds with holiday cheer!

Ingredients:
Crust
1 cup raw almonds
½ cup unsweetened coconut flakes
¾ cup pitted medjool dates, soaked and drained
2 Tbsp. organic cacao powder
⅛ tsp. sea salt
Cheesecake Base
2 cups raw cashews, soaked and drained
½ cup coconut cream*
½ cup pure maple syrup
¼ cup coconut oil, melted**
2 Tbsp. fresh squeezed lemon juice
2 tsp. pure vanilla extract
1½ tsp. organic peppermint extract
¼ tsp. sea salt
Hot Chocolate Cheesecake Layer
Approx. 1/3 of the cheesecake base
2 Tbsp. organic cacao powder
1-2 Tbsp. pure maple syrup, to taste
Peppermint Cheesecake Layer
Approx. 2/3 of the cheesecake base
½ tsp. beetroot powder, for color
Chocolate Sauce
2 Tbsp. coconut oil
2 Tbsp. pure maple syrup
2 Tbsp. organic cacao powder
¼ tsp. pure vanilla extract
⅛ tsp. sea salt
Toppings
Soft peppermint candies
Crushed hard peppermints
Directions:
For the Crust
Soak dates in warm water to soften for about 30 minutes.
Grease a 6-in x 3-in spring form pan with coconut oil non-stick cooking spray and line bottom with parchment paper.
Place almonds and coconut flakes in a food processor and process into a crumble.
Add the cacao powder and salt and mix some more.
Then add the dates, after soaking and draining, and blend into a sticky dough.
Press mixture into bottom of spring form pan and set aside.
Clean out the food processor to prepare the next layer.
For the Cheesecake Base
Soak cashews in warm water for 4-6 hours. Drain and place in food processor with the rest of the cheesecake base ingredients and blend until creamy and smooth.
If your mixture is too thick at this point, add a few Tbsp. of water or a plant-based milk of your choice to thin it out a bit.
Once the mixture has reached desired consistency, remove about 2/3 from the food processor and place in a separate mixing bowl.
For the Hot Chocolate Cheesecake
Add cacao powder and maple to the cheesecake base in the food processor and blend until well combined.
Evenly spread the hot chocolate cheesecake mixture over the crust, then tap pan on counter to release air bubbles.
Place in the freezer to set while making the peppermint cheesecake layer, about 25 minutes.
For the Peppermint Cheesecake Layer
Whisk the beetroot powder into the remaining cheesecake base in the mixing bowl for a pretty pink color.
Evenly spread the peppermint cheesecake filling over the set hot chocolate layer, then tap pan on counter to release air bubbles.
Cover and place in the freezer to set for 4-6 hours, or overnight for best results.
For the Chocolate Drizzle
After the cake has set and you're ready to serve, prepare the chocolate sauce using the double boiler method: Fill a small-medium sized pot/saucepan halfway with water. Set on the stove over medium heat and place a heatproof bowl (metal or glass) over the top; the bowl should sit on top, not inside.
Add coconut oil, maple, vanilla and salt to the bowl and stir until fully melted.
Whisk in the cacao powder until fully combined.
Remove cheesecake from spring form pan, set on parchment paper and spoon the chocolate sauce around the edges. Garnish with peppermint and allow to thaw at room temperature for about 20 minutes before slicing and serving. Store in the freezer for up to two weeks.
Notes
For coconut cream, refrigerate a can of coconut milk 8 hours or overnight. Open can and scoop out the thick creamy layer that has solidified at the top. Lightly whisk into a cream. Reserve the remaining liquid in the refrigerator for another use.
Melt coconut oil by filling a container with hot water and setting jar in it until the oil melts, about 15-20 minutes. Allow oil to cool to room temperature before using.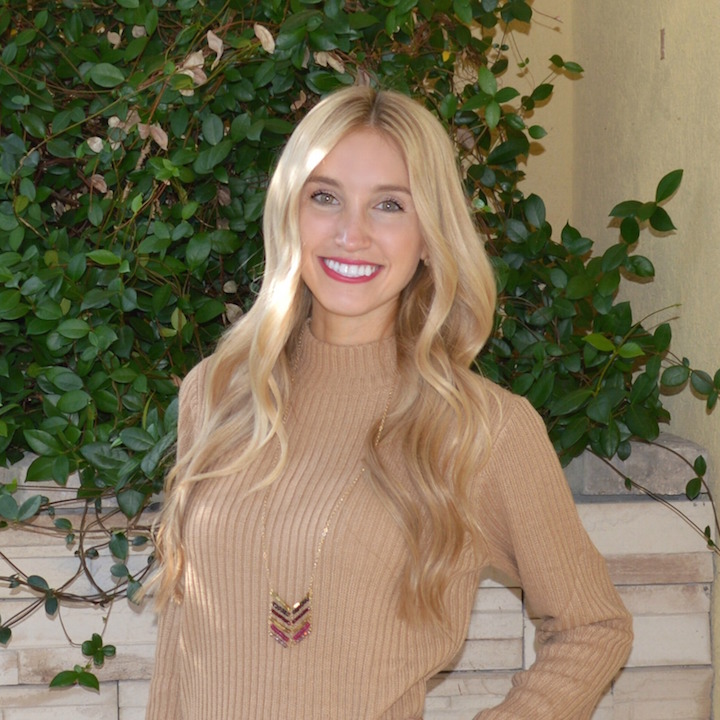 Hi there! I'm Sara – a twenty-something graphic designer with a passion for plant-based baking on the side.