---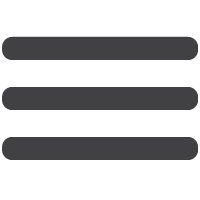 ---
Pistachio Coconut Cookies with Rose and Lavender Cashew Cream (Raw, Vegan)
January 23, 2018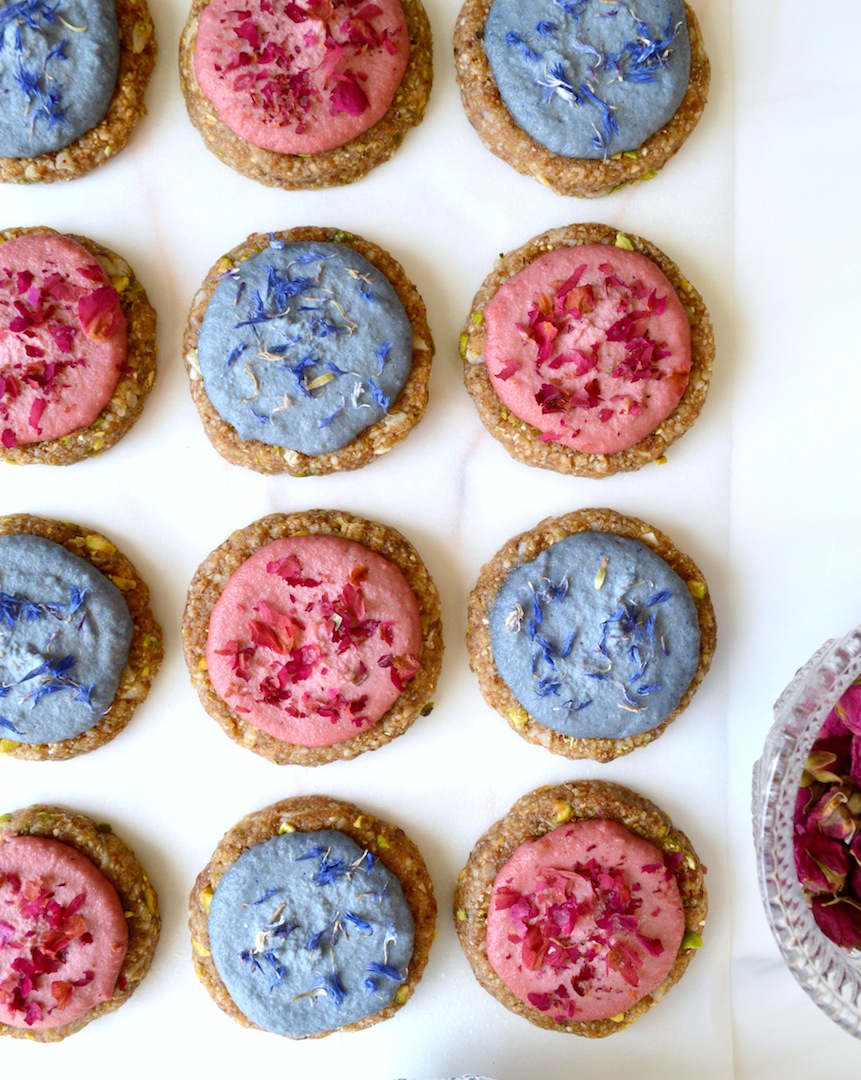 Whoever said there's beauty in simplicity is right, and these cookies right here prove it. These Raw Vegan Pistachio Coconut Cookies with Rose Water and Lavender Cashew Cream are sweet, simple and oh so pretty!
I whipped them up for my sisters' last minute gender reveal party and they were the perfect quick and easy, pink and blue treat. They would be great for Valentine's Day too. We found out she's having a boy by the way, yay! I can't wait to spoil him with alll the plant-based desserts ;)
The cookies are soft, chewy and bursting with sweet coconut-y goodness, while the rose water and lavender cashew frostings seal the deal with a light, creamy and floral finish. And the best part is they don't require any baking and they're pretty dang healthy, so you could even eat them for breakfast. I might've accidentally done this myself before the party, whoops...I just can't resist a good cookie! Give them a try and you'll understand.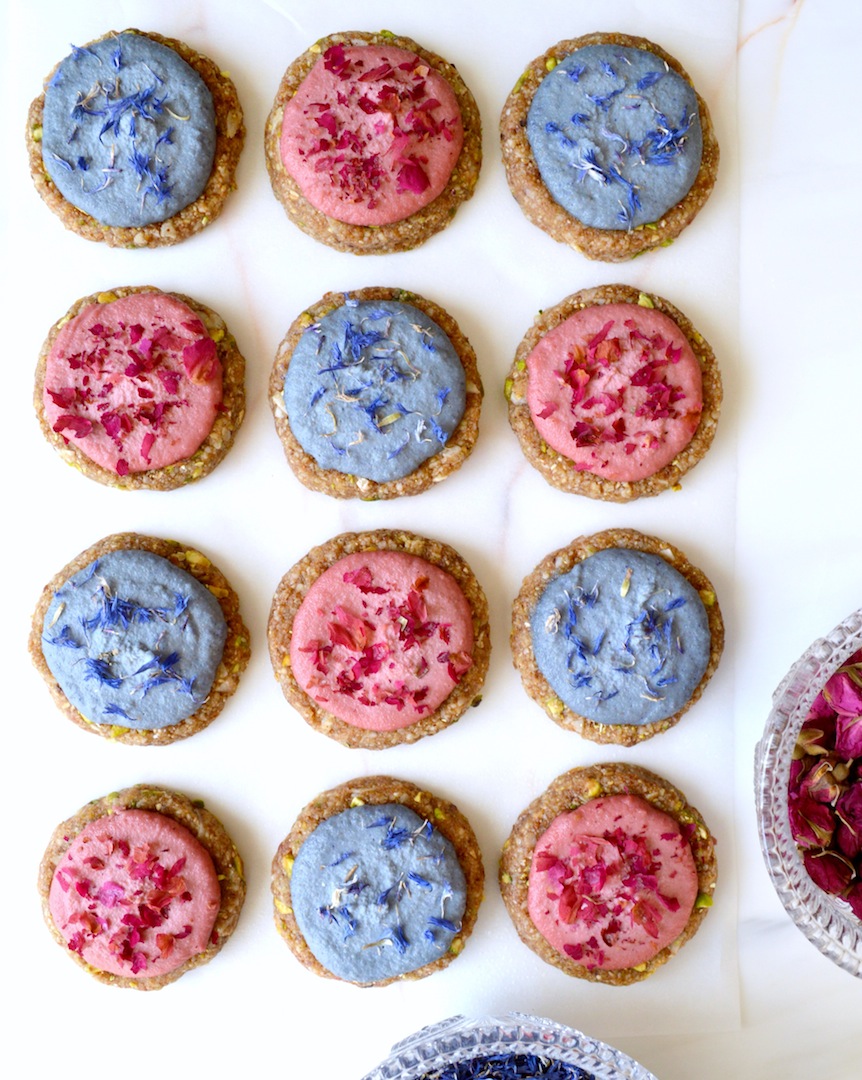 Ingredients:
Cookies
1½ cup unsweetened coconut flakes
1 cup almond meal
½ cup gluten free oats/oat flour
1 cup pitted medjool dates, soaked and drained
2 Tbsp. pure maple syrup
1 tsp. pure vanilla powder or extract
⅛ tsp. sea salt
⅓ cup pistachios, finely chopped
Cashew Cream
1½ cup raw cashews, soaked and drained
¼ cup pure maple syrup
¼ cup unsweetened vanilla cashew or almond milk
2 Tbsp. coconut oil, melted
1 Tbsp. fresh squeezed lemon juice
1 tsp. pure vanilla powder or extract
⅛ tsp. sea salt
Additional Ingredients for Rose Cashew Cream
½ tsp. beetroot powder
¼ tsp. culinary grade rose water
Additional Ingredients for Lavender Cashew Cream
½ tsp. organic blue matcha powder
¼ tsp. pure lavender extract
Toppings
Dried rose petals
Cornflower petals or dried lavender
Directions:
For the Cookies
Soak dates in warm water to soften for about 30 minutes.
Line a baking pan with parchment paper and spray with non-stick cooking spray.
Place unsweetened coconut flakes, almond meal and oats/oat flour in a food processor and pulse into a flour.
Add the dates, after soaking and draining, maple, vanilla and sea salt and blend into a sticky dough.
Roll dough into 12 balls, using about 3 Tbsp. of mixture per ball. If the dough is too sticky, chill in the fridge for 15-20 minutes.
Roll balls in the chopped pistachios, then evenly disperse on the baking pan and flatten into cookie shapes
Place in the freezer while making the cashew cream.
Clean out the food processor before starting the cashew cream.
For the Cashew Cream
Soak cashews in warm water for 4-6 hours. Drain and place in food processor with the rest of the cashew cream ingredients and blend until creamy and smooth.
Remove half of the cashew cream from the food processor, place in a separate mixing bowl and set aside.
For the Rose Cashew Cream
Add the rose water and beetroot powder to the cashew cream in the food processor and blend well.
Remove baking pan from freezer and place a large spoonful of rose cashew cream on six of the cookies. Evenly spread around the top, then garnish with dried rose petals.
For the Lavender Cashew Cream
Add the lavender extract and blue matcha powder to the cashew cream in the mixing bowl and blend well, using a mixer or whisk. (You can also add back to the food processor to blend, after removing the rose mixture and cleaning.)
Place a large spoonful of lavender cashew cream on the six remaining cookies. Evenly spread around the top, then garnish with cornflower petals or dried lavender.
Enjoy immediately or keep in the fridge for up to one week, and freezer for up to two weeks.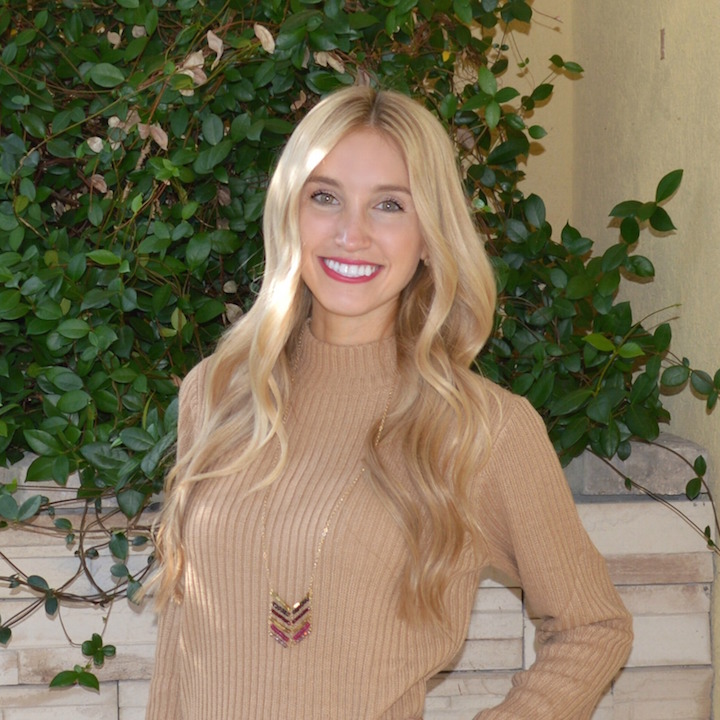 Hi there! I'm Sara – a twenty-something graphic designer with a passion for plant-based baking on the side.