---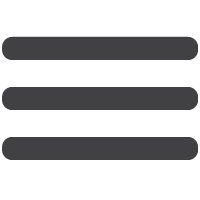 ---
Vegan Chocolate Banana Peanut Butter Cups
May 29, 2017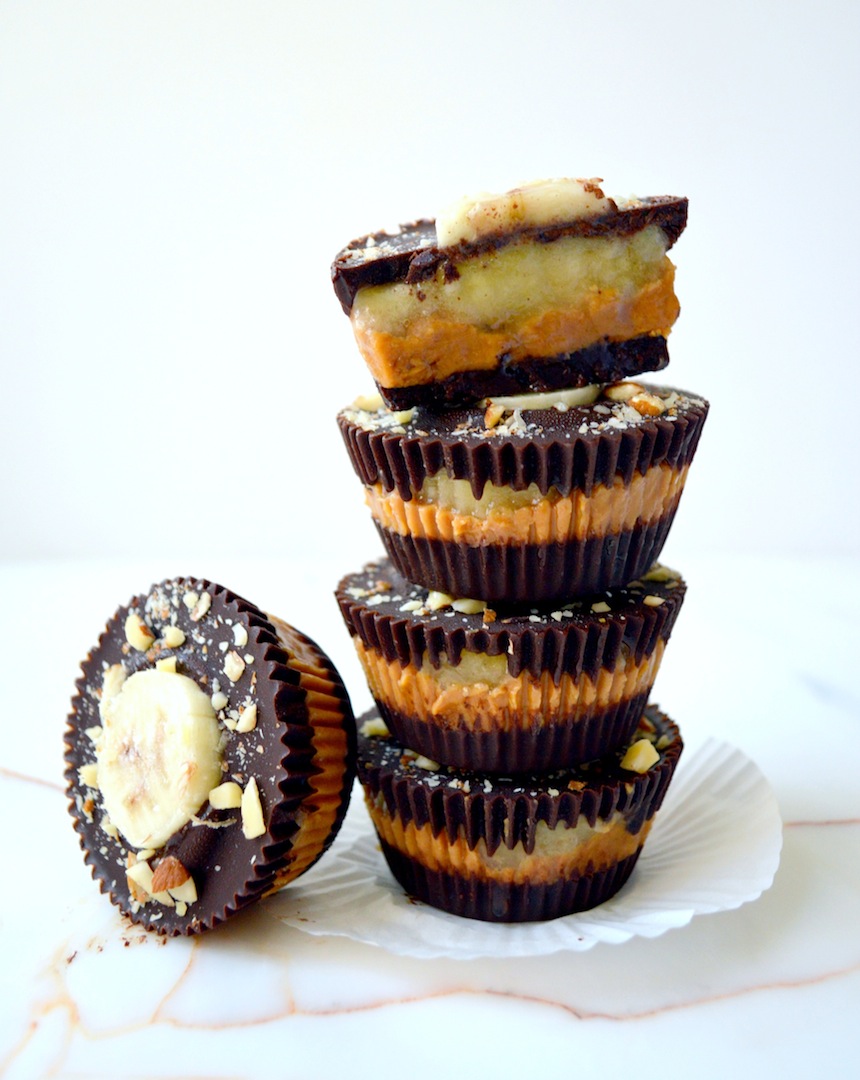 Peanut butter, bananas and chocolate are some of life's greatest little pleasures. I swear I could eat these flavors every day and never get sick of it! Good thing I have 12 of these babies waiting for me in the freezer (okay, like 6 now).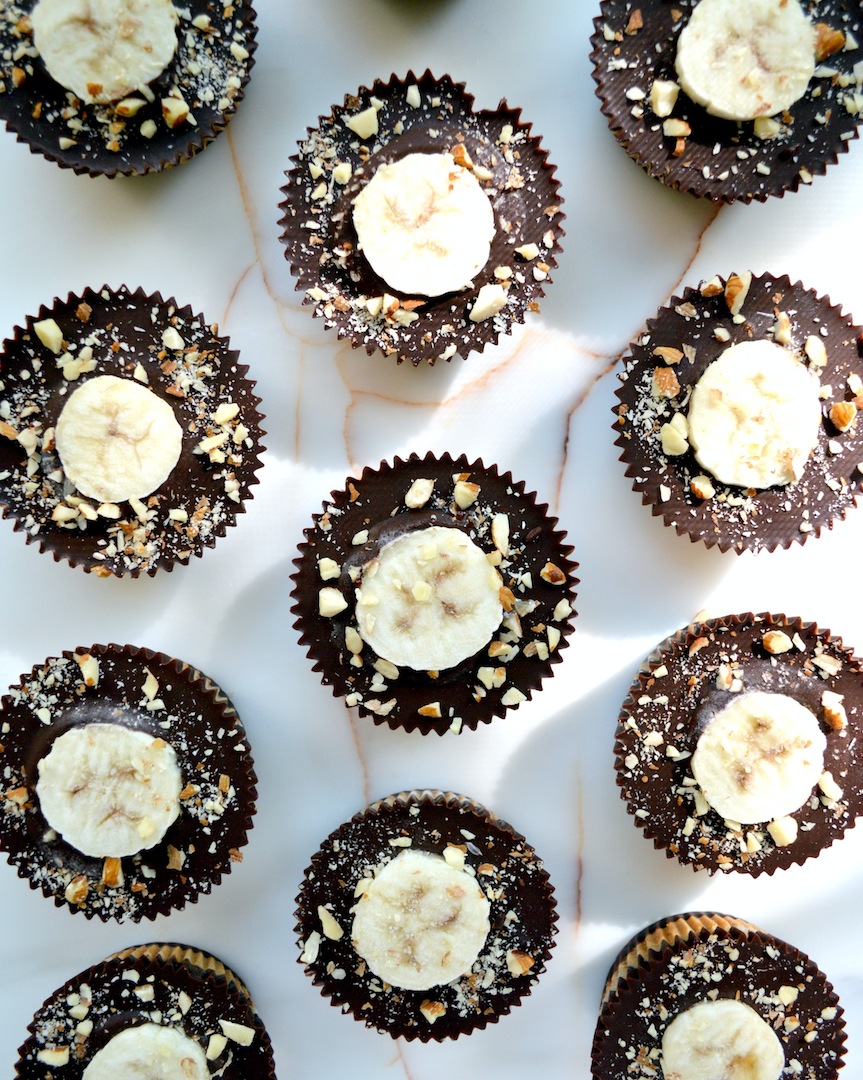 These homemade Vegan Chocolate Banana Peanut Butter Cups are so simple yet so divine. Reese's just can't compare. Not even Justin's! I used an all natural organic creamy peanut butter with no salt, sugar or oil added (by the Once Again brand) so I added a little maple and sea salt to mine. But if yours already has some of these things added in, you can use it as is. These cups would taste delicious with almond butter too. I actually prefer almond butter, but my boyfriend's strict pro-peanut butter stance won out this time!
If you don't have cacao butter, you can substitute with more coconut oil. The cacao butter just helps make more of a hardened chocolate with less of a coconut-y flavor. I've also been using vanilla powder instead of vanilla extract and I've found I prefer it's less-boozy taste, but either kind will work just fine!

Ingredients:
Chocolate
½ cup coconut oil
½ cup + 1 Tbsp. maple syrup
¼ cup + 1 Tbsp. raw organic cocoa butter wafers
1 tsp. pure vanilla powder or extract
¾ cup + 1 Tbsp. organic cacao powder
⅛-¼ tsp. sea salt
Peanut Butter Layer
¾ cup natural creamy peanut butter
1 Tbsp. maple syrup, optional
⅛ tsp. sea salt, optional
Banana Layer
2 over-ripe bananas, mashed
Toppings
1 banana, sliced
Chopped nuts
Directions:
Line a 12-cup muffin/cupcake pan with paper baking cups.
For the Chocolate
Make the chocolate using the double boiler method: Fill a pot halfway with warm water and bring to a simmer on the stove. Set a heatproof bowl over the pot and add the cocoa butter wafers, coconut oil, maple syrup and vanilla. Stir until fully melted and combined.
Remove bowl from the heat and whisk in the cacao powder and sea salt until there are no clumps.
Once fully mixed, evenly pour half of the chocolate into the 12 baking cups. Set the rest of the chocolate aside for the top layer. Place cups in the freezer to set while preparing the peanut butter layer, about 10 minutes.
For the Peanut Butter Layer
Stir together the peanut butter, maple syrup and sea salt until smooth and combined.
Once the bottom layer of chocolate has set, take the pan out of the freezer and spread a large spoonful of peanut butter into each cup, flattening out with the back of a spoon.
For the Banana Layer
Mash your ripe bananas with a fork and evenly spoon on top of the peanut butter layers.
Evenly top each cup with the remaining chocolate. If the chocolate has hardened, set the bowl over simmering water again and stir until melted.
Place the cups in the freezer to set for about 10 minutes, then take them out and top each cup with a slice of banana and some chopped peanuts or almonds. Placeback in the freezer to set for at least 45 minutes.
Store in a well-sealed container in the refrigerator for 1 week, or in the freezer for up to 1 month.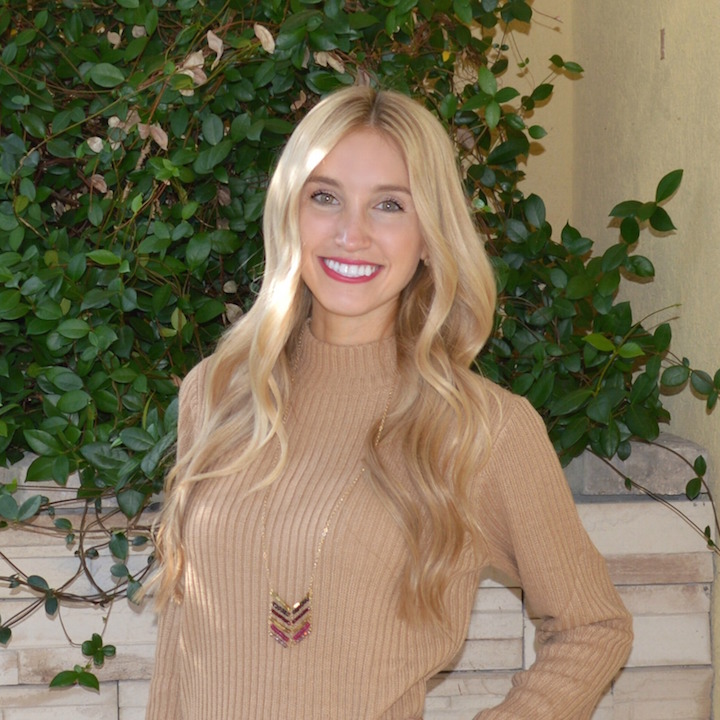 Hi there! I'm Sara – a twenty-something graphic designer with a passion for plant-based baking on the side.