---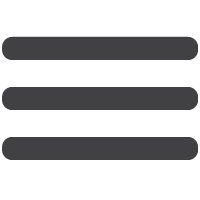 ---
Cinnamon Apple Cheesecake (Raw, Vegan)
December 1, 2019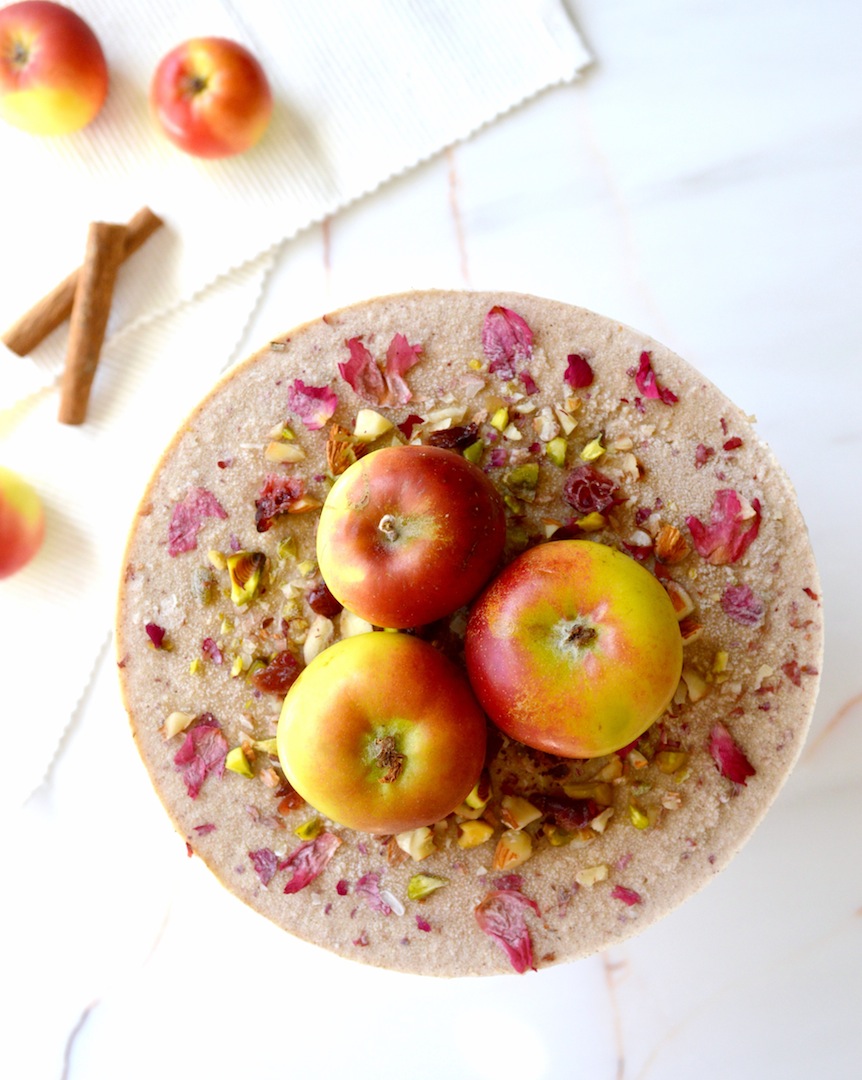 A slice of apple cheesecake a day keeps the doctor away...or something like that! This Cinnamon Apple Cheesecake offers the perfect mixture or sweetness, tartness, and warmth - everything you could want in a Fall/Winter dessert!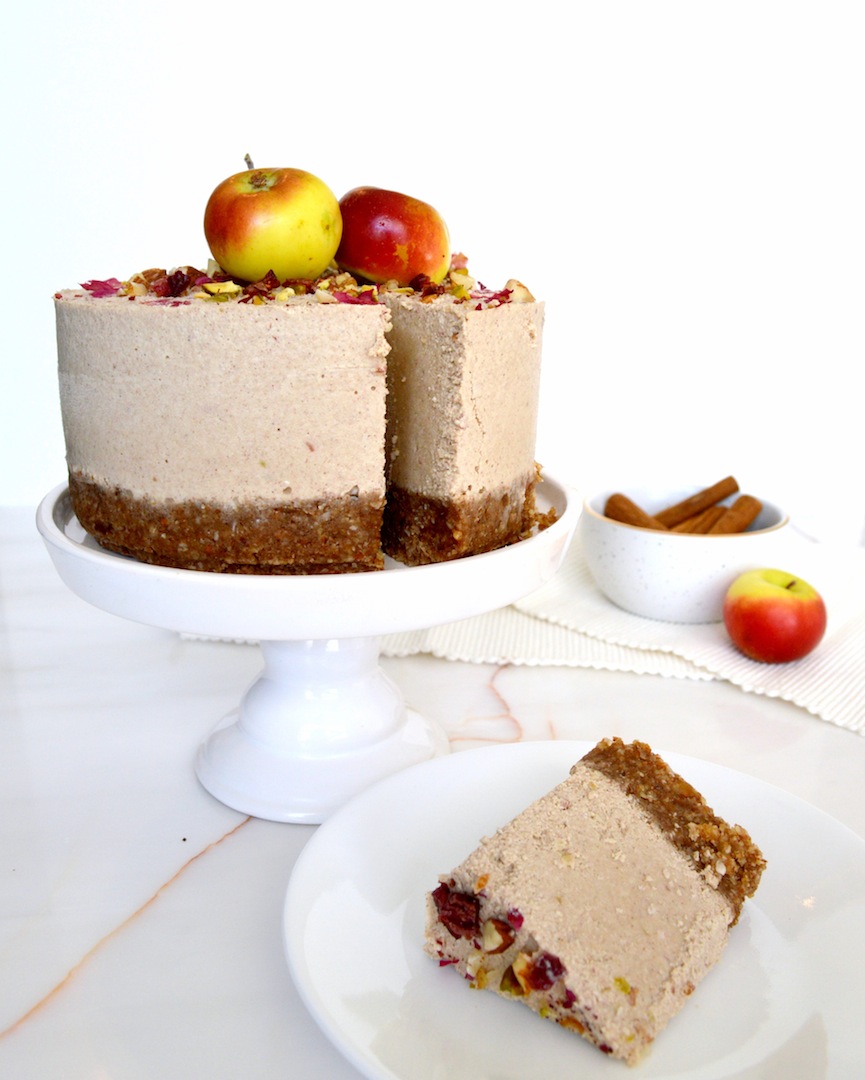 Ingredients:
Crust
1½ cup raw almonds
½ cup unsweetened coconut flakes
¾ cup (10) pitted medjool dates, soaked and drained
1 tsp. Ceylon cinnamon (reduce if using Cassia)
⅛ tsp. sea salt
Cinnamon Apple Cheesecake
2 cups raw cashews, soaked and drained
2 medium ripe apples, diced
½-1 cup unsweetened vanilla cashew milk, or other non-dairy milk of choice
¼ cup + 2 Tbsp. pure maple syrup
¼ cup fresh squeezed lemon juice
2 Tbsp. organic coconut oil, melted and cooled to room temp.
3 tsp. Ceylon cinnamon (reduce if using Cassia)
1 tsp. pure vanilla extract
¼ tsp. sea salt
Toppings
Fresh mini apples
Chopped almonds
Dried cranberries
Dried rose petals
Directions:
For the Crust
Soak dates in warm water to soften for about 30 minutes.
Grease a 6-in x 3-in spring form pan with coconut oil non-stick cooking spray and line bottom with parchment paper.
Place almonds, coconut flakes, cinnamon, and salt in a food processor and process into a crumble.
Add the dates, after soaking and draining, and blend into a sticky dough, scraping down the sides when necessary.
Press mixture into bottom of spring form pan and set aside.
Clean out the food processor to prepare the next layer.
For the Cinnamon Apple Cheesecake
Soak cashews in warm water for 4-6 hours. Drain and place in food processor with rest of Cinnamon Apple Cheesecake ingredients (beginning with only ½ cup milk) and blend until smooth. If the mixture is still pretty thick, slowly add remaining ½ cup milk and blend until nice and creamy.
Pour the filling over the crust, then tap pan on counter to release air bubbles.
Cover and place in the freezer to set for 4-6 hours, or overnight for best results.
Remove cake from spring form pan and garnish with toppings of choice. Allow to thaw at room temperature for 20-30 minutes before slicing and serving. Store in the freezer for up to two weeks.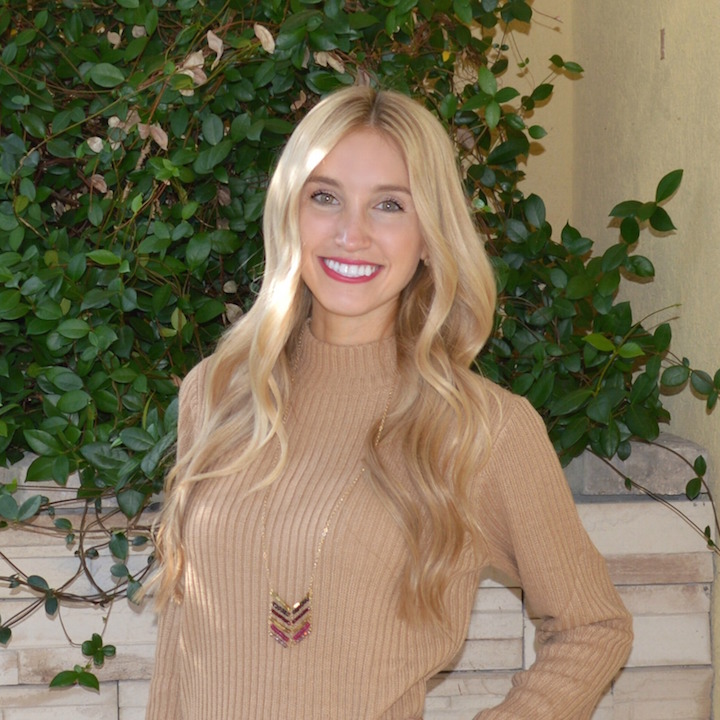 Hi there! I'm Sara – a twenty-something graphic designer with a passion for plant-based baking on the side.