---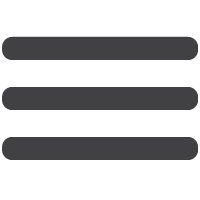 ---
Gingerbread Thumbprint Cookies with Cashew Cream and Berry Jam (Gluten-free, Vegan)
December 24, 2018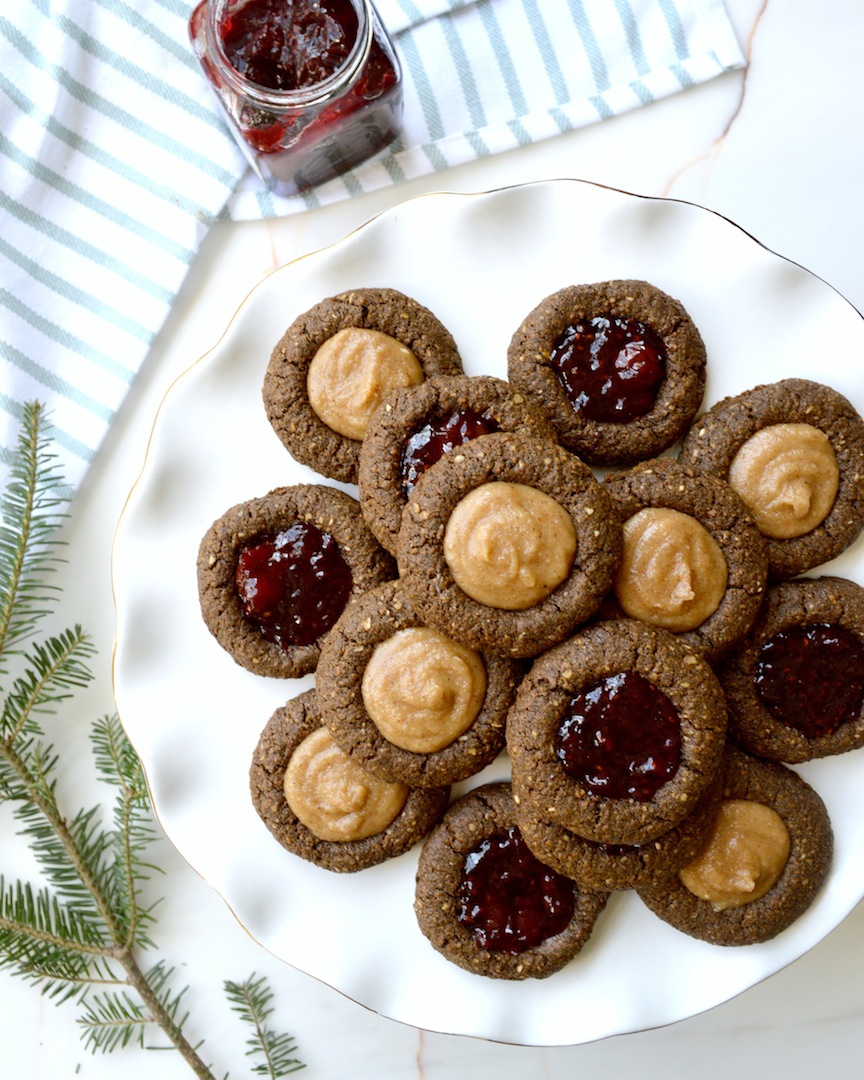 All I want for Christmas (and every other Tuesday) is all the Christmas cookies! Cookies are such an underrated confection in the dessert world, but they're my personal favorite. They're like sweet, pillowy bundles of comfort for your belly, and these vegan gingerbread thumbprint cookies hit the spot like no other!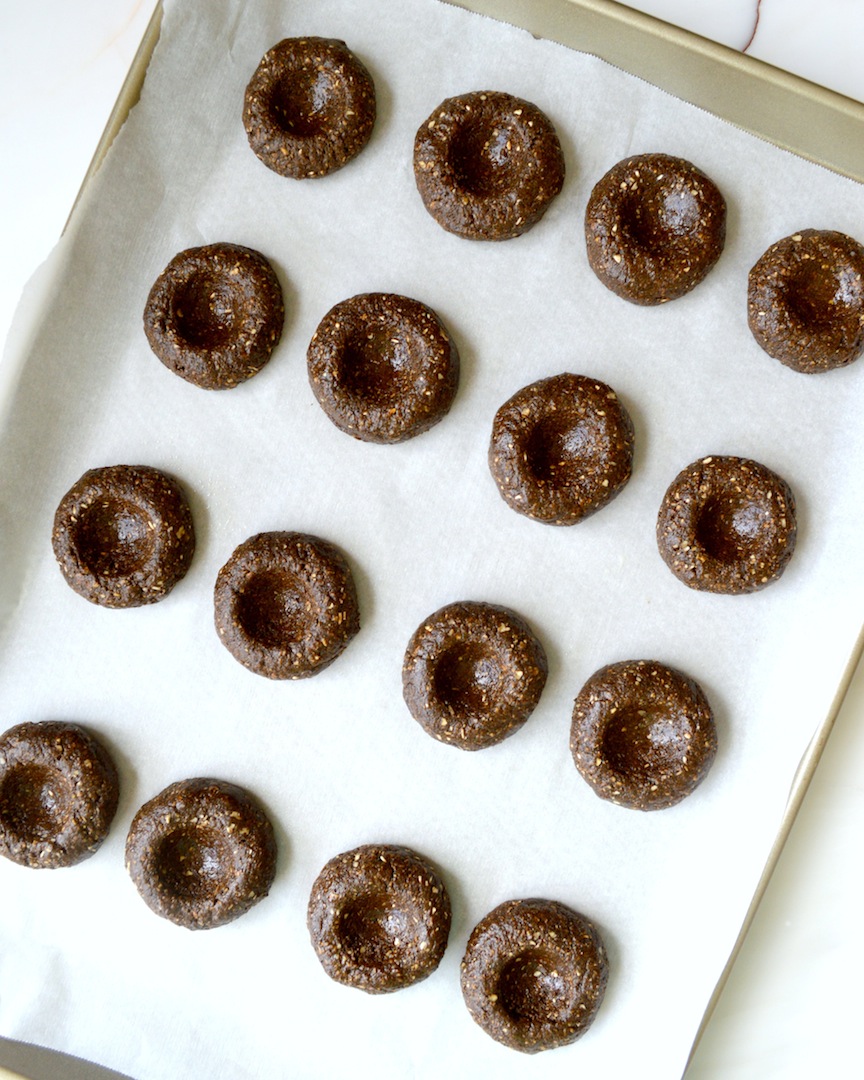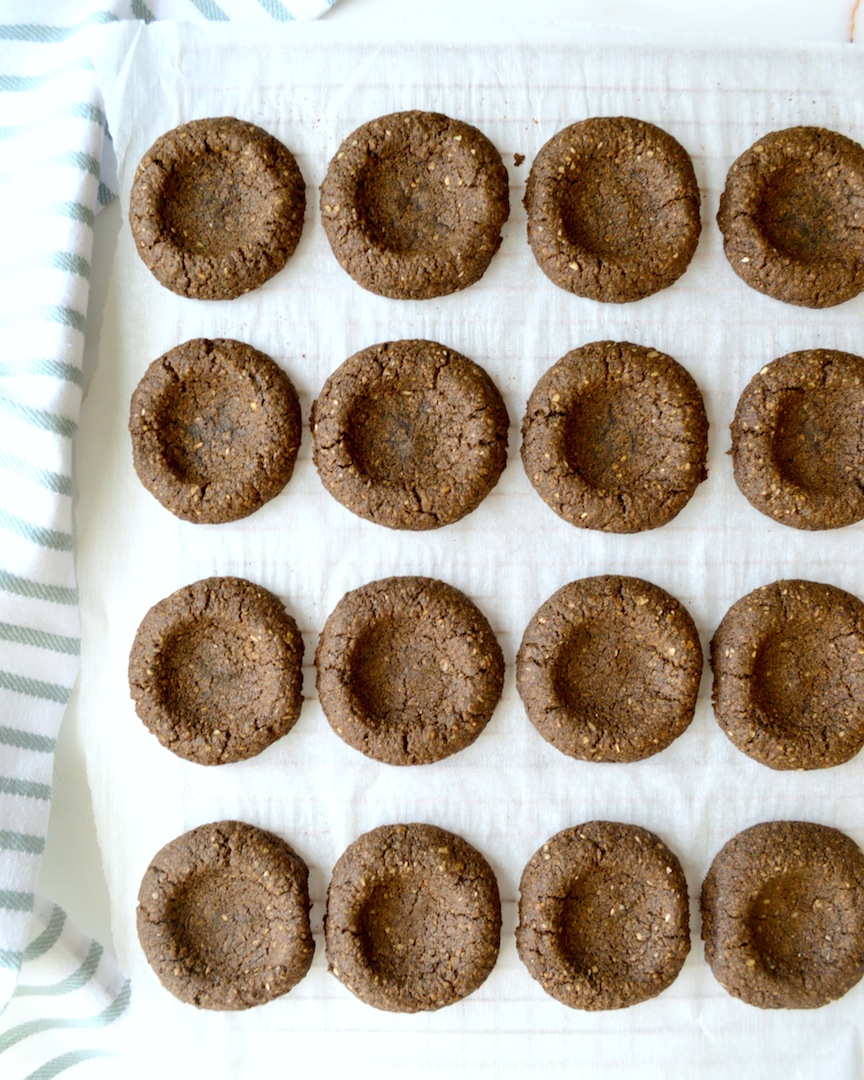 They're perfectly soft and chewy and full of warm spices and sweet molasses - everything you could want in a Christmas cookie really! I filled half of mine with cherry berry jam and the other half with cashew cream to mix it up. You can use just one or choose another filling altogether. Either way, visions of gingerbread will be dancing in your head all winter long after you try these!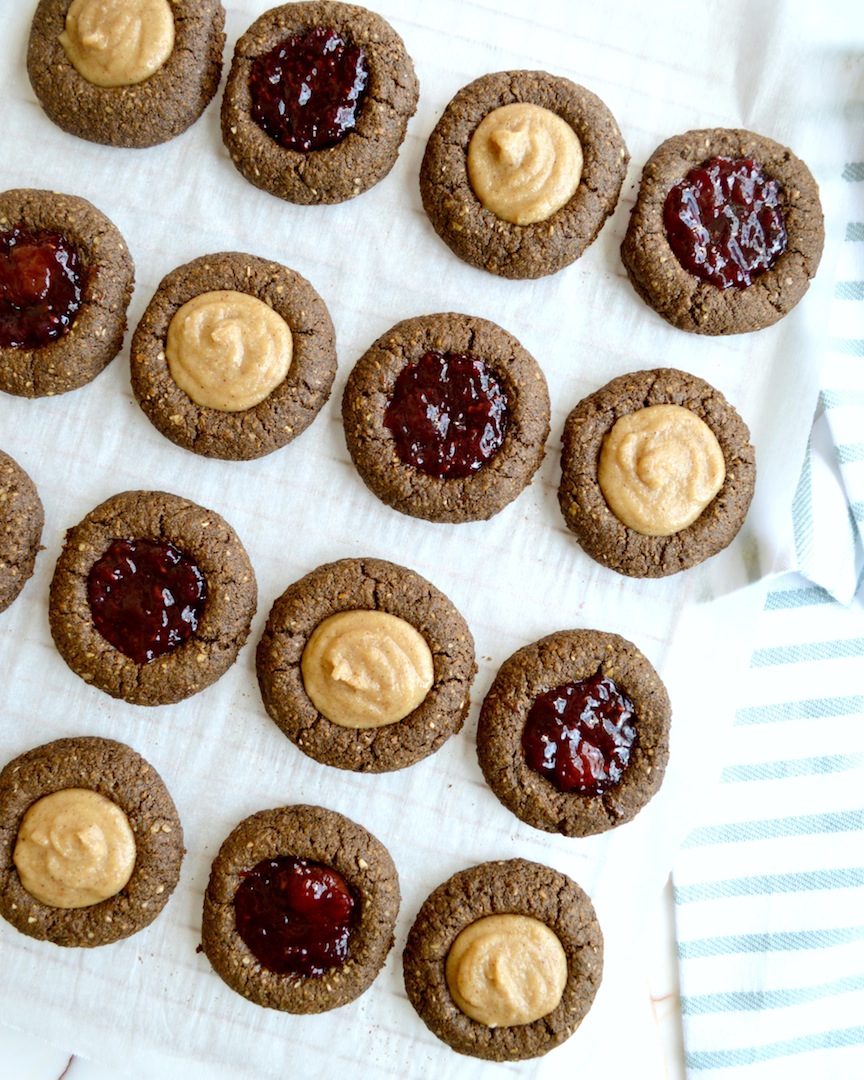 Ingredients:
Cookies
Dry
1 cup gluten free oat flour
1 cup buckwheat flour
2 tsp. ginger
1 tsp. ceylon cinnamon
¼ tsp. nutmeg
¼ tsp. cloves
¼ tsp. sea salt
1 tsp. baking powder
½ tsp. baking soda

Wet
1 flax egg*
½ cup coconut sugar or brown sugar
3 Tbsp. organic blackstrap molasses
¼ cup coconut oil, solidified
1 tsp. pure vanilla extract
Cashew Cream
½ cup raw cashews, soaked and drained
2 Tbsp. coconut oil, melted
2 Tbsp. pure maple syrup
1 tsp. fresh squeezed lemon juice
½ tsp. ceylon cinnamon
¼ tsp. pure vanilla extract
pinch sea salt
Jam
Approx. ⅓ cup cherry berry jam, or other jam of choice
Directions:
For the Cookies
Preheat oven to 350°F and line a large baking sheet with parchment paper.
In a small bowl, whisk together ground flax seeds and warm water. Set aside and allow to soak for 10-15 minutes while preparing the dry ingredients.
In a large mixing bowl, combine the oat flour, buckwheat flour, baking soda, baking powder, salt, and spices. Set aside.
In a separate mixing bowl or stand mixer, beat together the coconut oil, sugar, molasses, and vanilla. Add the flax egg and mix until smooth.
Slowly add the dry ingredients to the wet ingredients and stir into a well combined dough.
Scoop out one heaping Tbsp. of dough at a time, roll into a ball, and arrange on lined baking sheet. Repeat until dough is used up.
Using your thumb or the back of a tsp., make an indent about halfway down the middle of each ball.
Bake for 10 minutes, or until the edges are set.
Remove from oven and re-indent cookies with the back of a tsp. Allow to cool on baking sheet for atleast 10 minutes before transferring to a wire rack to cool completely.
While cookies are cooling, get your jam out and prepare the cashew cream.
For the Cashew Cream
Soak cashews in warm water for 4-6 hours. Drain and place in food processor with the rest of the cashew cream ingredients. Blend until creamy and smooth.
After the cookies have cooled completely, add a dollop of cashew cream into half of the cookies and a tsp. of jam into the other half.
Best served fresh. Store in an air-tight container at room temperature or in the fridge for up to 1 week.
Notes
1 flax egg = 1 Tbsp. ground flax seeds + 3 Tbsp. warm water.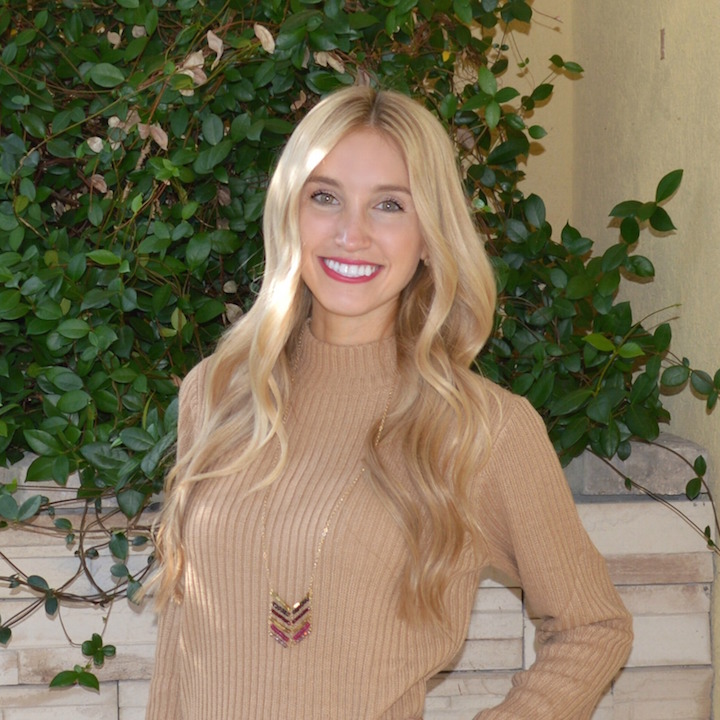 Hi there! I'm Sara – a twenty-something graphic designer with a passion for plant-based baking on the side.